Rejuvenation is a highly effective formula for sensitive skin with redness and blemishes. Results and improvement in skin appearance may be seen within the first days of use.
---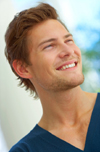 Today's active lifestyle can wreak havoc on your skin. Noredol is an easy to use, clear gel that brings soothing relief, on the slope or on the run!
Read what Noredol users have to say
Cinna Health Products, a division of Molecular Research Center, Inc. promotes research and sales of new products for sensitive skin, based on natural compounds.
---
Questions about the best way to use NORDEDOL? It's not just for Rosacea! Laser? Peels? Blemishes? Find answers here!